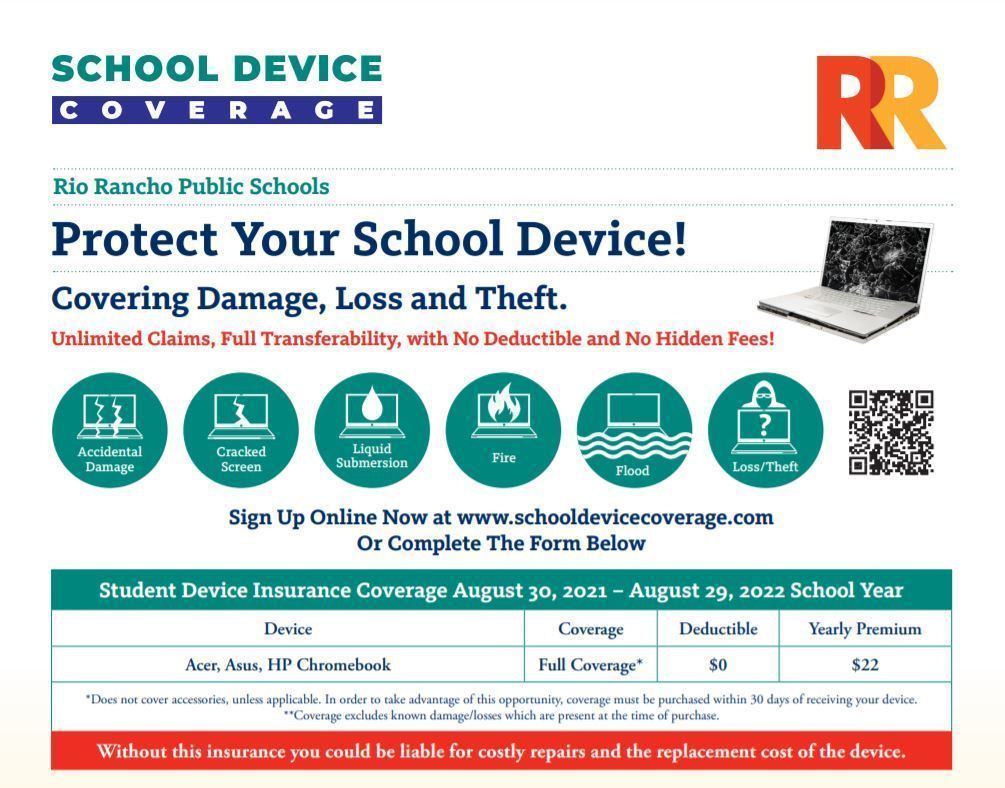 As part of mask requirements and enforcement, Rio Rancho Public Schools is must provide our school community with notice of our updated discipline matrices by September 8. Our student discipline matrices have been updated to reflect the discipline process for students who refuse to wear a face mask while in school, when required. The updates describe the consequences for violating mask-wearing requirements. Read through the updated discipline matrix at:
https://drive.google.com/file/d/18owCKDYVsFij5KoepoA3pvUdpdBAYA9v/view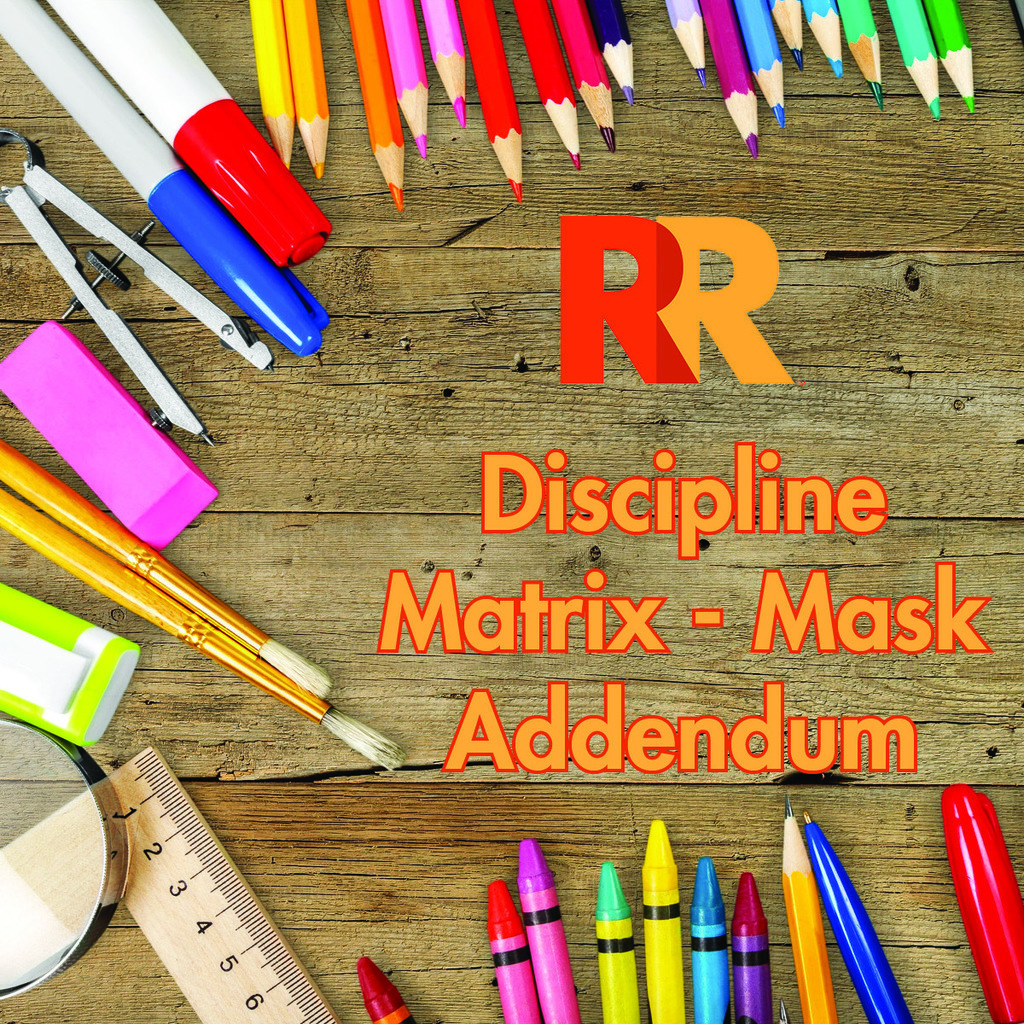 Due to the holiday yesterday, the Food Services Department will be handing out four days of Grab-n-Go meals today (Sept. 7) at Lincoln Middle School and Mountain View Middle School from 11 a.m. to 12 p.m. They will not be doing meal distribution tomorrow. Regular Monday and Wednesday grab-n-go meal distribution will resume next week on the September 13. Anyone unable to pick up this week's grab-n-go meals today, should call our Food Services Department at (505) 938-0385 to request alternate arrangements.

RRPS is actively recruiting to fill open bus driver, bus attendant, custodian, EA, substitute teacher and food service positions. Apply and interview for these openings at a Sept. 8 job fair event from 4:30 to 6:30pm at our Transportation Center (821 Moccasin Dr NE, Rio Rancho). Learn more at:
https://rioranchonm.sites.thrillshare.com/article/525653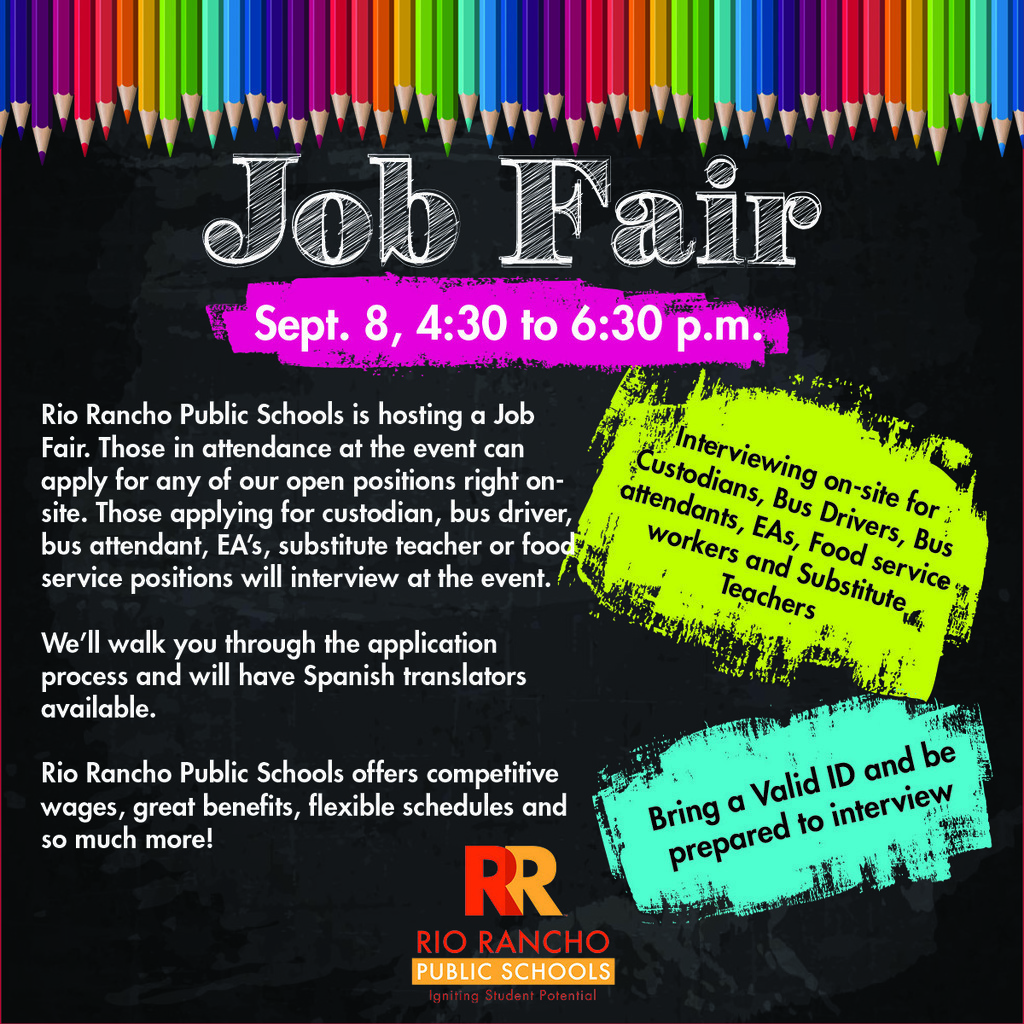 Did you miss last night's Parent University Class about Student Meals? No need to worry, we've posted the recording on our website and YouTube channel. Click the link below to see what you missed and learn about our Food Services, nutrition requirements, made-from-scratch recipes and more from our new school meal vendor Southwest Foodservice Excellence.
https://youtu.be/elgilq6EFBo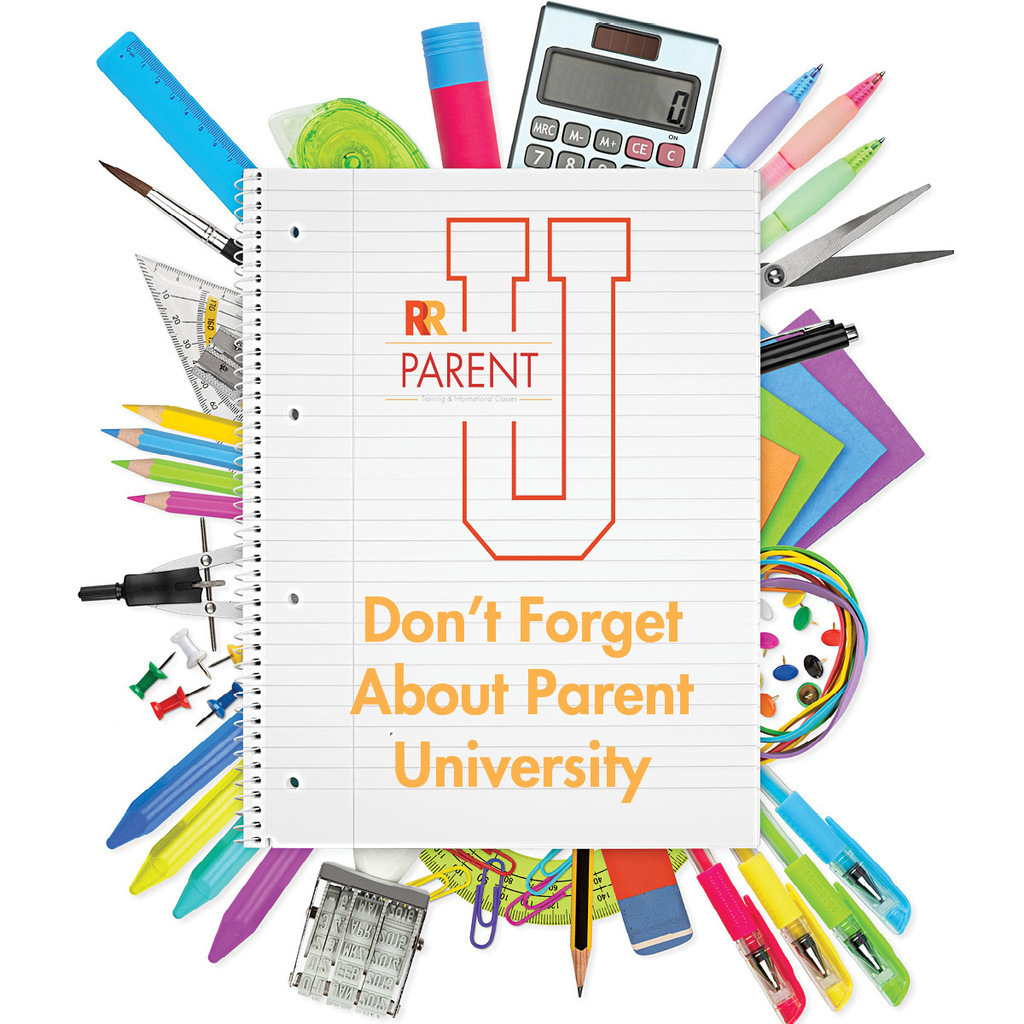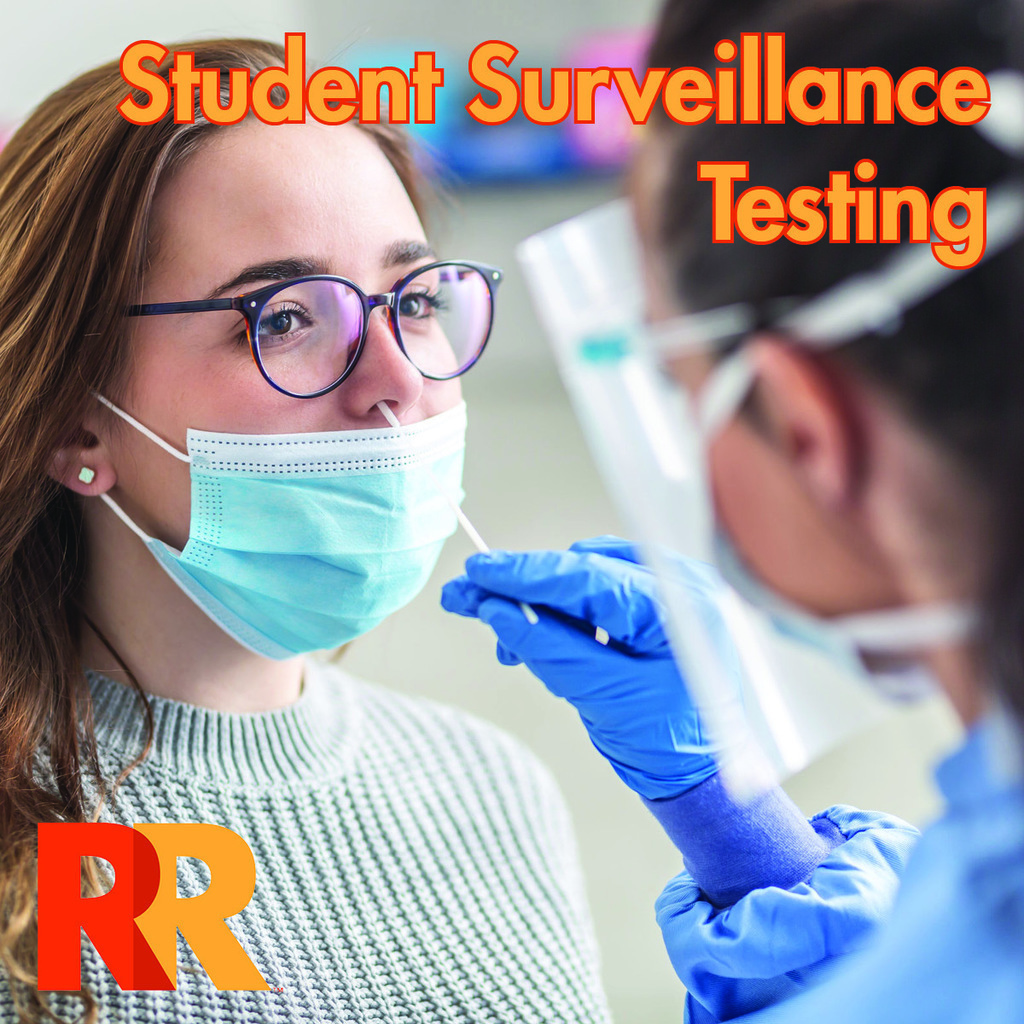 Join us for the first Parent University online webinar all about student meal services and our Food Services Department. During this informative session, with a live Q&A session, you'll learn about the requirements for all of our school meals, how our new food services vendor sources products, how we create menus, free meals for all students this year and so much more! Our panel of experts from our Food Services Department and vendor Southwest Foodservice Excellence will give a short presentation and then will take your questions live as we stream this event on our YouTube channel. Thursday, Aug. 19 5:30 to 7 p.m. Streaming live on our YouTube Channel at:
https://www.youtube.com/c/RioRanchoPublicSchools-RRPS
Questions from the public should be entered into the chat box in YouTube once the online webinar begins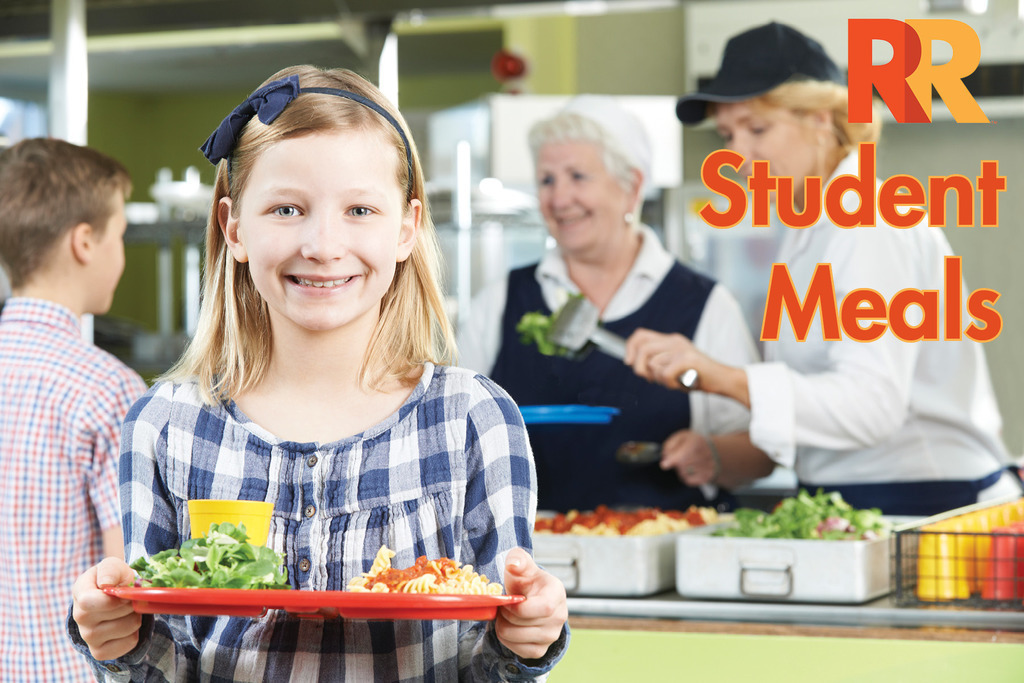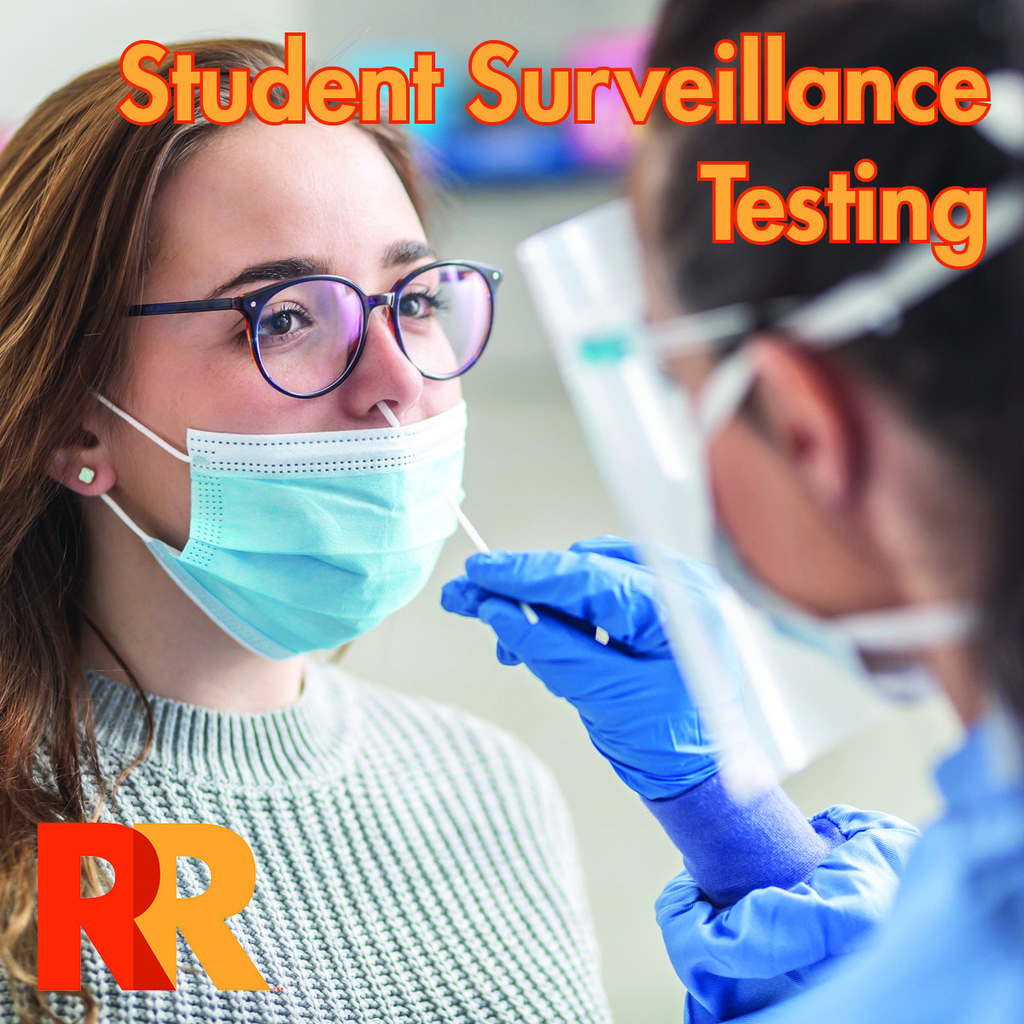 Rio Rancho Public Schools will offer free grab-n-go student lunches for students who are virtual this school year at our SpaRRk Academy, Rio Rancho Cyber Academy and other schools. Starting August 9, Rio Rancho Public Schools will provide curbside grab-n-go meal pickup at Mountain View Middle School and Lincoln Middle School. For full details visit:
https://www.rrps.net/page/food-services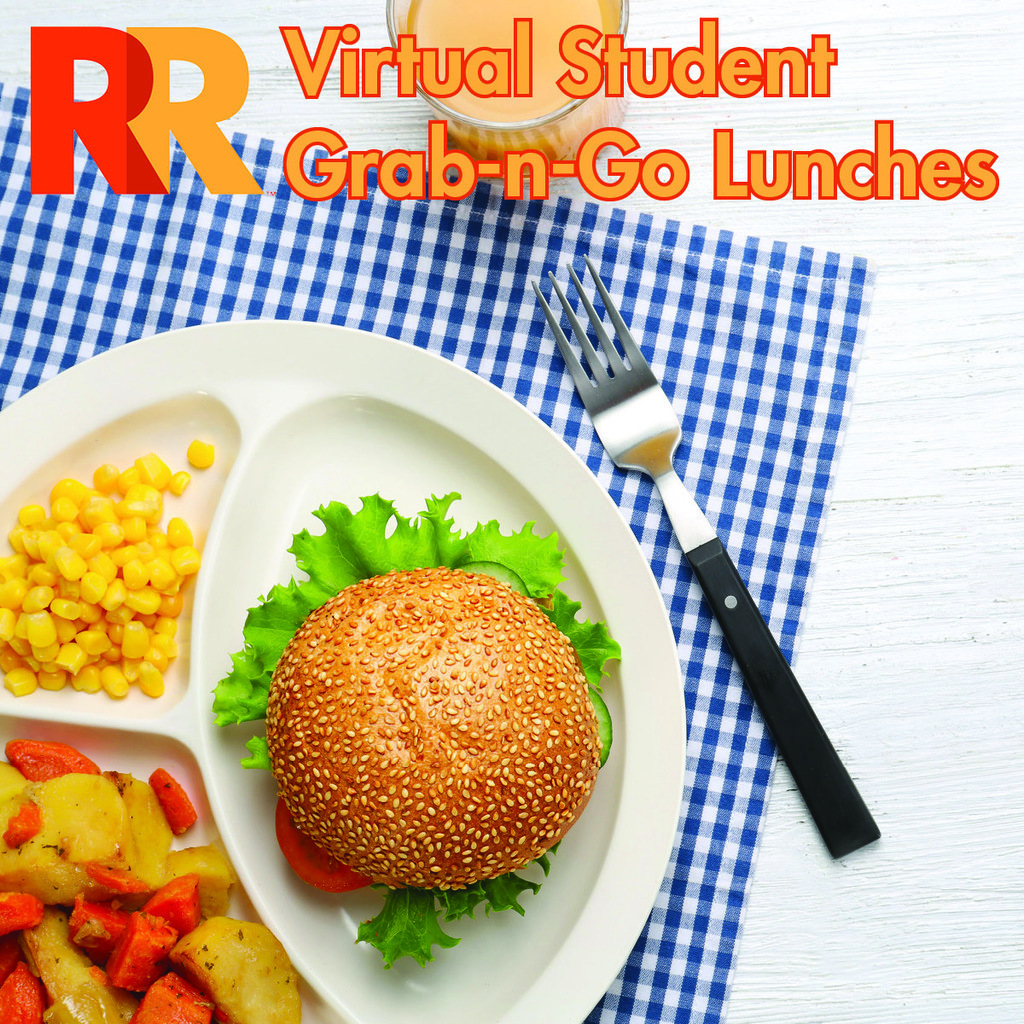 Last night, the Rio Rancho Public Schools Board of Education decided on masking rules for the 21-22 School Year for RRPS students in middle and high school. Learn more or request your secondary student's Mask Pass at:
https://www.rrps.net/page/school-reentry-updates
#RRPSignites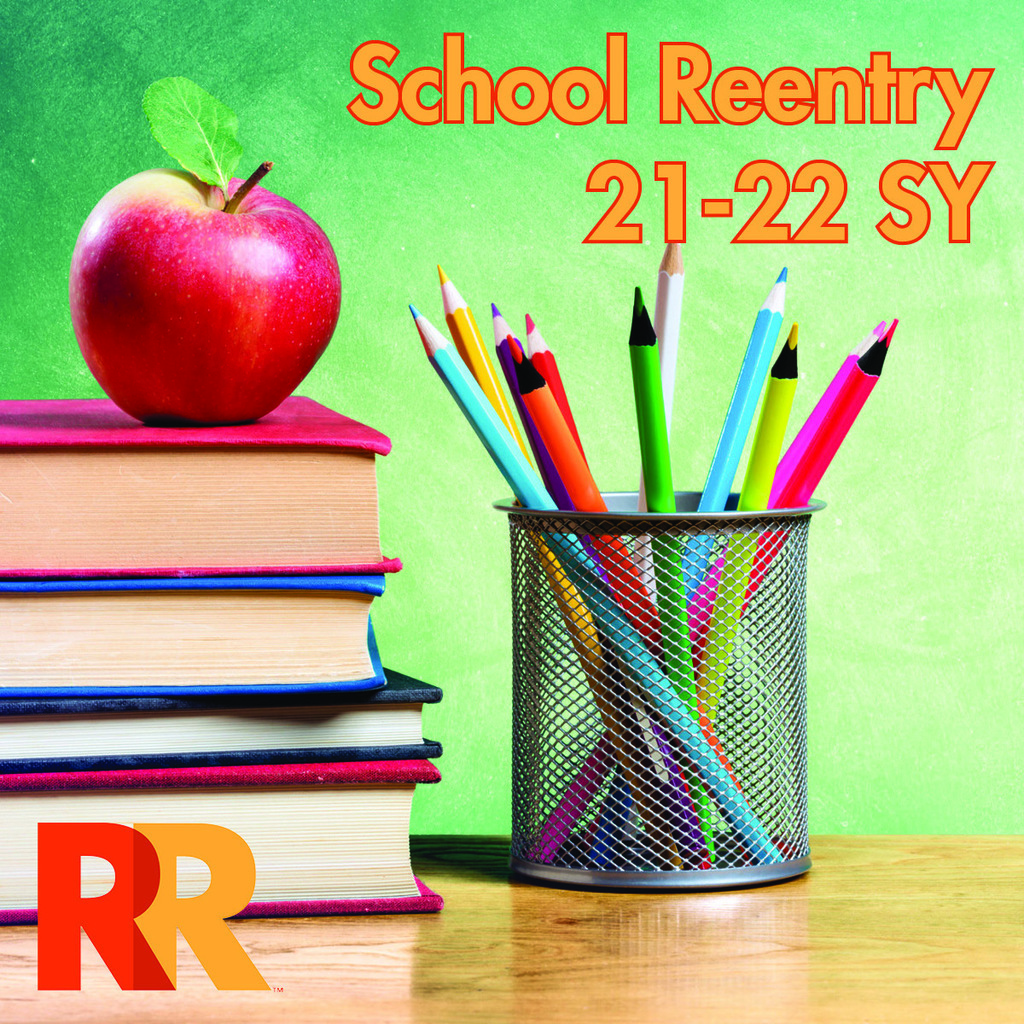 Mountain View Middle School will host a registration day for families that need internet and computer access on Tuesday, August 3rd from 12:00 pm to 5:00 pm at Mountain View. Bring the following documents with you to registration: proof of residency (utility bill, or mortgage statement in the name of the legal guardian), birth certificate, and current immunization records. Sparklight bills WILL NOT be accepted as proof of residency.

Rio Rancho Public Schools just received the new NMPED School Reentry Toolkit for the 21-22 school year. At this time, we are taking time to review the information. We will be presenting information to our School Board this evening related to the toolkit and reentry (this meeting will be streamed live on our website and YouTube Channel). In regards to the mask requirements and proof of vaccination, we will be working with our leaders to determine how best to proceed within the parameters of the toolkit. We will communicate further details with all parents, guardians and staff as new information becomes available. Updates for school reentry, along with the toolkit just released, can be found at:
https://rioranchonm.sites.thrillshare.com/page/school-reentry-updates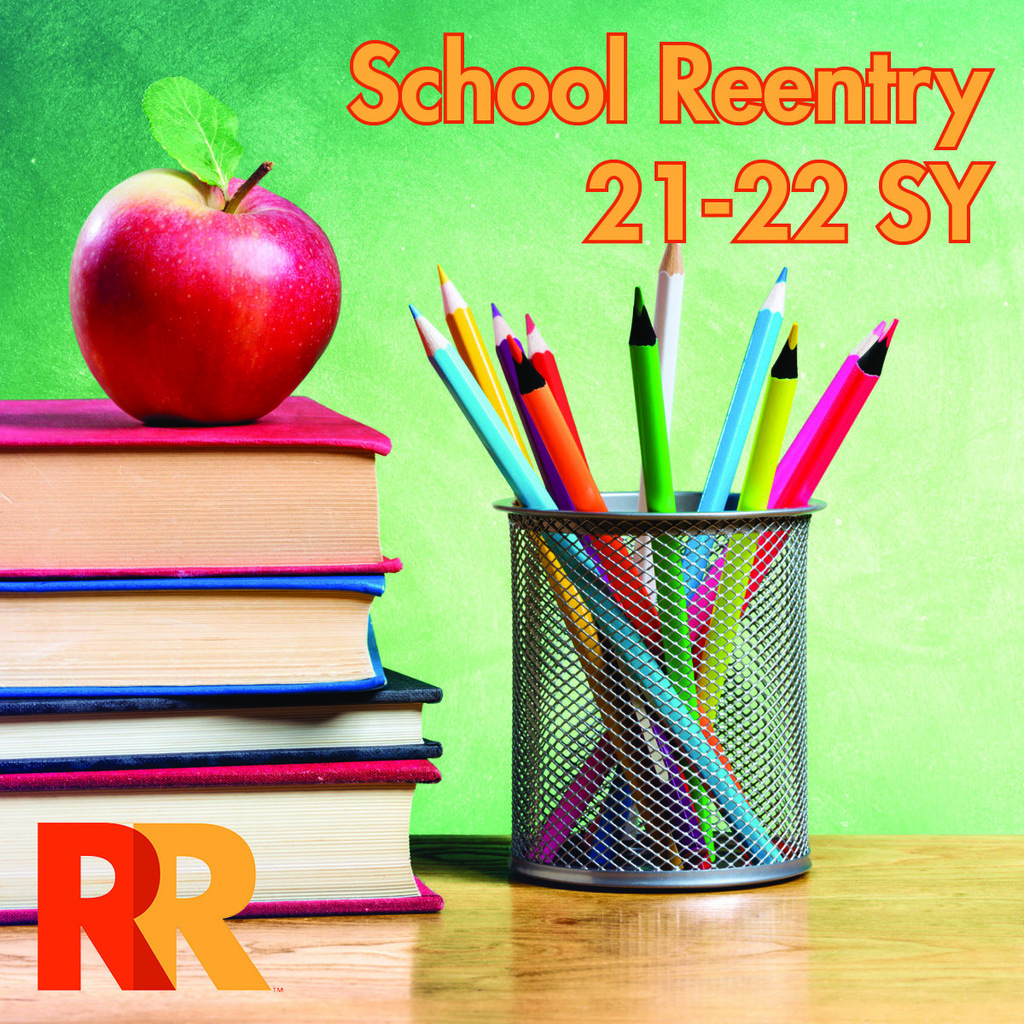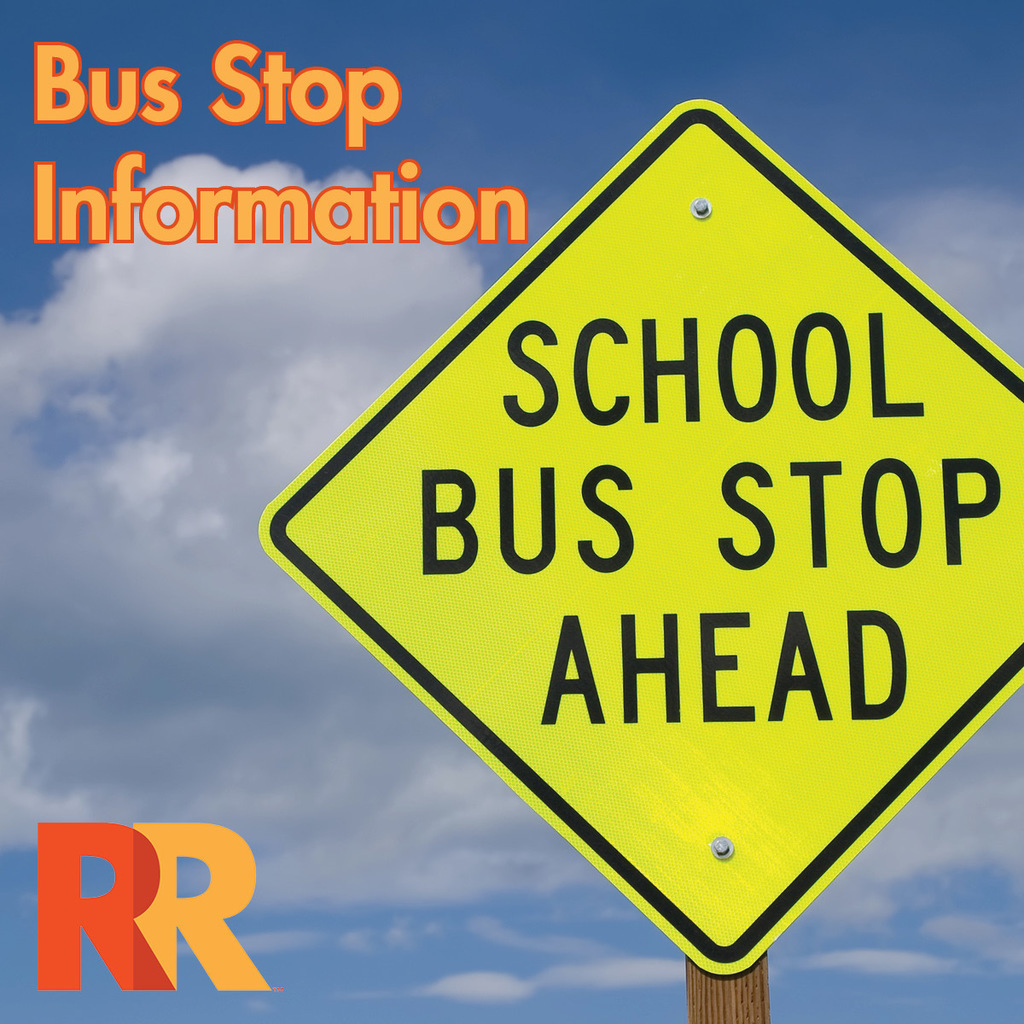 Rio Rancho Public Schools is hosting a Job Fair. Those in attendance at the event can apply for any of our open positions right on-site. Plus, those applying for custodian, bus driver, mechanic, security or substitute teacher positions will interview at the event. During the event, we'll walk you through the application process and assist with application submission. We'll also have Spanish translators available. Come dressed for success and prepared to interview with our hiring teams. Please bring a valid I.D. Rio Rancho Public Schools offers competitive wages, great benefits, flexible schedules and so much more! Join us July 27 from 4 to 6:30 p.m. at the RRPS Training Center located at 500 Laser Road in Rio Rancho. (Newer building on the North side of the RRPS District Office campus). #RRPSignties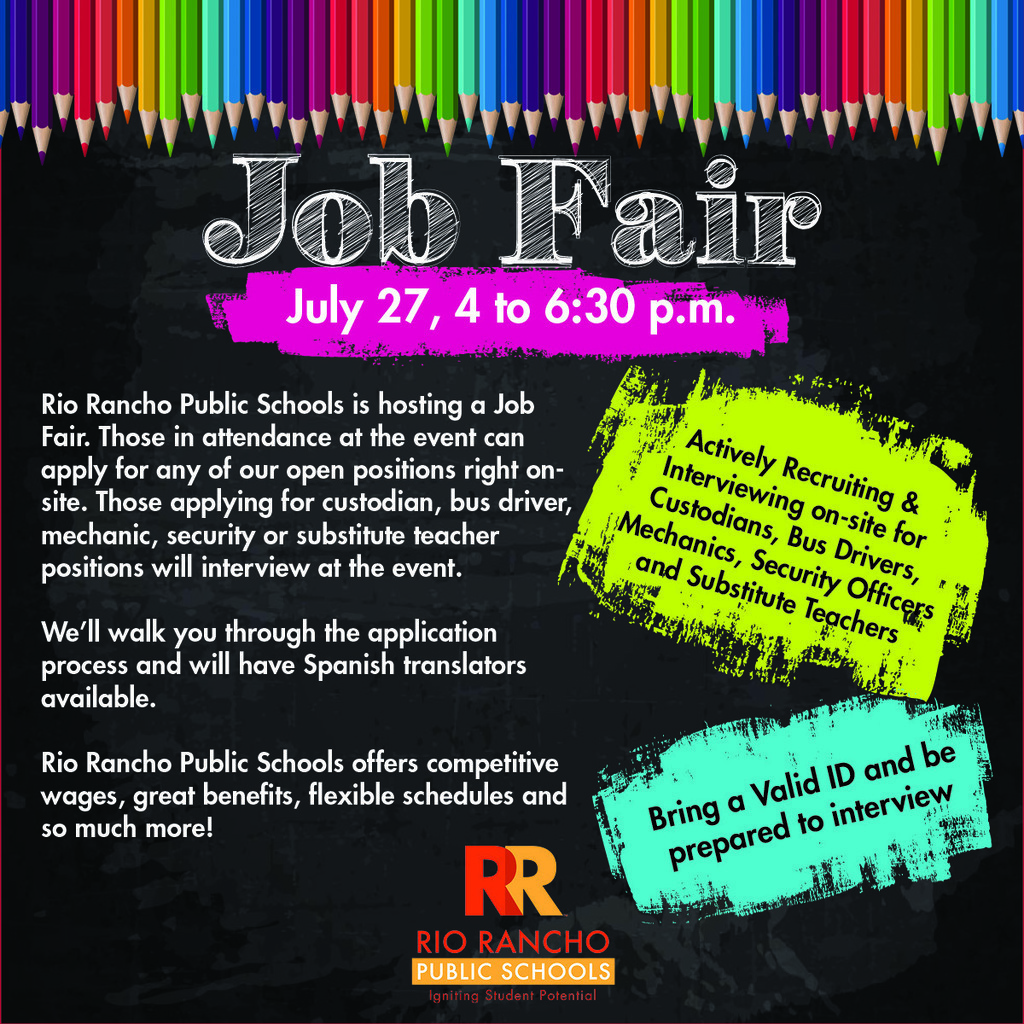 Does your child or teen still need a COVID-19 vaccination? Good news, our partners at the Garza Family McDonald's, Walgreens, City of Rio Rancho and Blue Cross and Blue Shield of New Mexico are hosting a Community COVID-19 Vaccination Health Fair on June 26. From 12 to 4 p.m. at the McDonald's located at 1390 Rio Rancho Blvd NE, children and teens ages 12-17 will be able to receive their Pfizer vaccine for free. A parent or guardian must be present. Children who receive a vaccine that day will also receive a card for a free McDonald's All-American Meal item. *No appointment necessary; Face masks are required during the vaccination process for all those in attendance. The second shot for these children will be administered at the same location on July 24.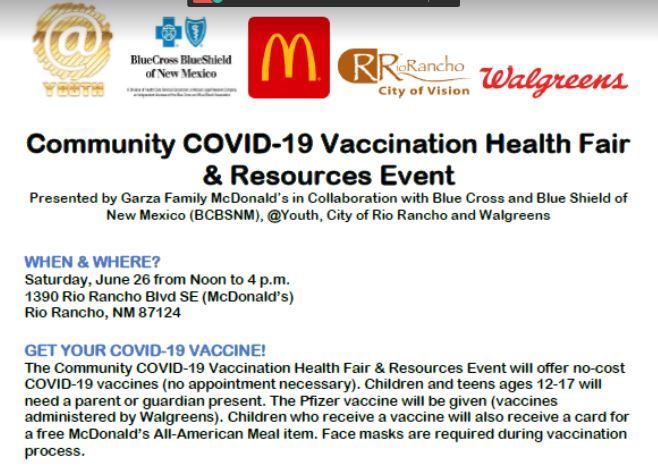 Kudos to students at Mountain View Middle School for their school-wide collaborative mural which was recently completed. Each student used watercolors, crayons, colored pencils or markers to create a mixed media drip design. Each design was then connected to create a large wall mural that wraps the hallways. The overall goal of the project was for students to learn about contemporary artist Jen Stark, who inspired the lesson and to feel a sense of unity during these times of separation and space. Although social distancing requires us to stay 6 feet apart when possible, this mural shows pieces of student art can be surrounded by our peers, symbolizing that we are all in this together. In total 167 students participated from 6th, 7th and 8th grade. Great job Mountain View Middle School! #RRPSignites